Would you benefit on legal training on: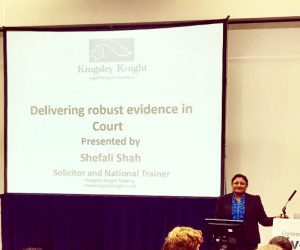 Presenting robust evidence in court
Learn how robust evidence can help to make you an impressive witness in court
Increase of proceedings means social care professionals whether from adult or children services are at risk of having their evidence examined in court
Understand what constitutes robust evidence
Understand the importance of court documents that can stand cross examination.
Understand how strong evidence can help you to the an impressive witness in court.
Understand the court's expectations of the report writer.
The training takes place on 25 September 2018 at 11.30am-12.45am, at the Community Care Live event at the Buisness Design Centre, Islington, London.
To attend you need to register your free place with Community Care Live Event
Hope to see you at the event, in the meantime or if you are unable to attend, then our latest legal briefing may assist. Read the tips provided by Kingsley Knight Training on the importance of clear and contemporaneous case notes, and how it can help you in presenting robust evidence.
Click here to read the legal briefing
If you are interested in similar training or would like further information then please contact us