Free Court Skills Training for Newly Qualified Social Workers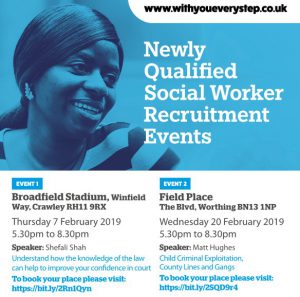 Will you be a newly qualified social worker in 2019?
This free training event is for you. This year, you are embarking on an exciting new career path. However, are you ready to go to court on one of your new cases?
Want to improve your confidence in court, then come and learn how understanding the law can help you become a more impressive witness at court.
Sign up for this free training event which is aimed at student social workers qualifying in 2019 and learn how to improve your court skills.
To find more information and to book a place, please click here
After the talk there will be an opportunity to ask questions and to network with current NQSWs and experienced members of the children's social care team at West Sussex County Council.