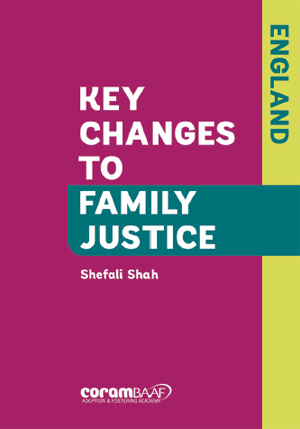 This guide supports practitioners and professionals by detailing not just the recent changes in the law but also, and more importantly, how these changes are being applied in practice. It is an invaluable resource for all those involved in the family justice process.
Considerable changes to the family justice system, with the implementation of a number of radical reforms, including the landmark Children and Families Act 2014. These reforms are primarily intended to reduce delay for children, and to ensure that court proceedings are consistent, flexible and meet children's needs for permanence and security as quickly as possible.
How can practitioners and the courts work together under these new rules to ensure the best outcomes for children? What has changed in family law, and what has remained the same? Which changes are relevant to work with looked after children and their families?
This guide covers many aspects of recent legislative changes including:
The Family Justice Review;
The Family Court;
Legal aid;
The Children and Families Act 2014;
The impact of Re B and Re B-S;
Adoption, Fostering for Adoption and concurrent planning;
Fostering and Staying Put.
The author
Shefali Shah is a practising solicitor with over 21 years' experience in children law as well as more than 17 years' experience as a local authority solicitor and manager. She is legal adviser to Adoption UK and Adopters for Adoption, is one of the four legal advisers to the Independent Review Mechanism for England and is a member of CoramBAAF's Legal Group Advisory Committee.
Shefali is also a national trainer and teaches children law academically on the undergraduate law programme and on the postgraduate legal practice course.
Contact us to purchase a copy of the book: Key Changes to Family Justice.
Review
This book is clearly written, first and foremost, for local authority social workers. That said, it will undoubtedly prove useful to children's guardians, lawyers who want a concise overview ……  a better understanding of the process. This remains a commendable achievement in conciseness which deserves a place on practitioners' bookshelves.
Rodney Noon, solicitor-advocate, Halifax, Seen & Heard 26: 2