Does the mere thought of attending court make you fearful or anxious? Come and get some tips on how to become an impressive witness.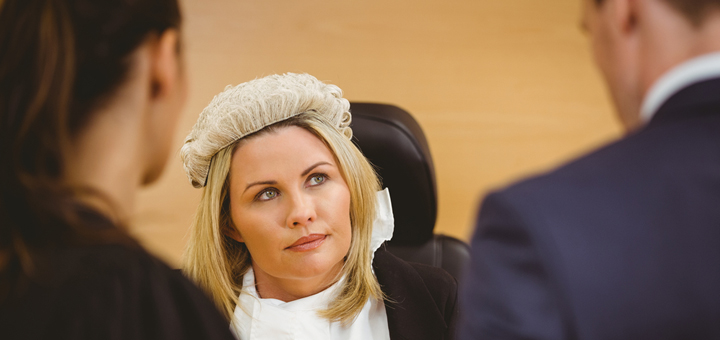 Does the thought of having to go to court feel like an exciting prospect or does it make you feel uncomfortable, nervous or perhaps frightened,
Are your feelings of anxiety because:

You may not know what will be expected of you
You may not know what your duties are to court
You may not know what you will be asked
You may not know what to say, or when to say it
You may not know who else will be at court
You may not know how to address the Judges
As social care professionals, you undertake a very difficult job and yet the mere thought of having to go to court can raise such anxieties and fears even in the most experienced professionals. One of the main reasons for this is because you are entering an environment that is not familiar to you.
The reality is that however, challenging, attending court is part of the social care professional's job and not attending court can lead to dire consequences.
A real case
I was involved in one case where the social worker was directed to attend  a family court in a private children's matter. The social worker had failed to complete a report on time in relation to the father's application for contact with his child, which the mother was opposed to. Thinking she has a choice and without seeking advice, the social worker informed the court that she would not be attending as she was on duty that day. The Judge understandably upset with this response sent a further order for her attendance and attached a penal notice to the order. This meant that if the social worker refused to comply with this order then she could be held in contempt of court, imprisoned or fined. After advising the social worker she must attend court, the social worker did and gave evidence over 2 days. Unfortunately, the Judge did not consider the social worker or her evidence had assisted and in fact took the view that it had further complicated the case. This resulted at the conclusion of the case in the Judge ordering the Local Authority to show cause as to why it should not pay the father's full legal costs of £17,000. This was a harsh lesson for both the social worker but equally for the Local Authority.
This case demonstrates that it is important for social worker to understand court rules and their duties to court as a witness. However as was clear in this case simply being requested to attend court as a witness can raise many anxieties.
What are your anxieties?
Common worries include a lack of understanding about what will be expected of you, not knowing how the legal system operates, the court rules, legal language or the purpose of cross examination. Others may be concerned about what they will be asked and being uncertain about what to say and when to say it. There can be concern around being unaware of what your duties are or fears about who else will be at court on that day. Some feel anxious about how to address the judge and being unsure about court etiquette, formality or protocol. Others fear the cross examination. It can even be something as seemingly trivial as not knowing what to wear.
One of the main reason for anxiety is the not-knowing. The social care professional is entering an unfamiliar environment and that can be daunting. When in court it may even feel that it is more like being in a theatre with the advocates, Judge and other court professional all having key roles.
When at court there is also a risk that this lack of knowledge can interfere in the social care professional's presentation at court which could result in the social care professional adopting a presentation style that could be perceived as a defensive, aggressive or even a confrontational approach when in fact the social care professional is attempting to present as a confident and credible witness.
As has already been established attendance at court cannot be avoided as it is an essential part of the social care professional's job. Therefore, it is important that in your role as social care professional you clearly understand the key part you play in the courtroom arena. One of the ways to deal with this is to equip yourself with knowledge and essential skills and by understanding what is expected of you and how the process works, with this the process will seem less intimidating.
How we can help
If you would like to develop your confidence in court and enhance your practical skills in coping with cross-examination so that you can present evidence as a an impressive witness and demonstrate to the court the expert that you are then contact us
Want it in-house?
We can deliver our bespoke legal and social care training courses in-house – contact us to discuss your specific training needs.
Copyright: The content of this legal briefing is copyright of Kingsley Knight. It can be printed and downloaded free of charge in an unaltered form on a temporary basis, for personal use or reference purposes. However, it is prohibited for any content printed or downloaded to be sold, licensed, transferred, copied or reproduced in whole or in part in any manner or in or on any media to any person without the prior consent of Kingsley Knight
Disclaimer: The contents of this guide are for information and is not intended to be relied upon as legal advice.